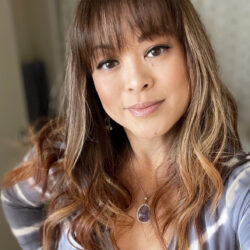 Stacey is a partner and the founder of Stacey Leong Design (SLD). As her firm's creative director, she provides brand consulting, annual campaign planning, project budgeting, comprehensive account servicing, concept development, art direction, design and layout. Her design approach is rooted in fully understanding each client's goals. She believes in creating engaging and unique work to suit the needs at hand. As a result, she has consistently produced a wide range of award-winning designs in both print and web.
Prior to founding SLD in 2002, Stacey led the creative staff at Team Vision Marketing and designed for Clarence Lee Design & Associates. As president of the American Institute of Graphic Arts (AIGA) Honolulu Chapter in 2001–04, she established the AIGA Graphic Design Endowment for graphic design students, as well as the biannual AIGA Hawai'i's 5-O Design Competition and Award Show. In 2003, Stacey was featured and awarded the "Forty Under Forty" in Pacific Business News at the age of 30.
Stacey is inspired by the diverse cultures, talents, and levels of connection that surround her—she knows that everyone has a story to tell. Outside of SLD, she enjoys making others feel beautiful, designing handbags for her special project, Popo's Collection, and above all, being a mom. Stacey received a Bachelor of Fine Arts (BFA) in Graphic Design from University of Hawai'i at Mānoa.